On this show we will take you to Cannes, France- for the prestigious Cannes International Film Festival for the World Premiere of Indiana Jones and the Dial of Destiny, starring Harrison Ford- who is back again in his iconic leading role of: Indiana Jones, to a very HUGH SUCCESS!
On the show we will also bring you the U.S. Premiere in Hollywood, with the cast and filmmakers celebrating Indiana Jones and the Dial of Destiny with a special orchestral performance conducted by John Williams! We will take you down on the red carpet for interviews with the stars of this movie: Harrison Ford, Phoebe Waller-Bridge, Karen Allen (from the original movie), Mads Mikkelsen, and John Rhys- Davies, and take you inside the gala ceremonies with the Director: Steven Spielberg, George Lucas, and Mr. Ford's wife: Calista Flockhart, for the presentation of the honorary Palme d'Or award to the legendary actor Harrison Ford, who was in tears when he received this vey prestigious award: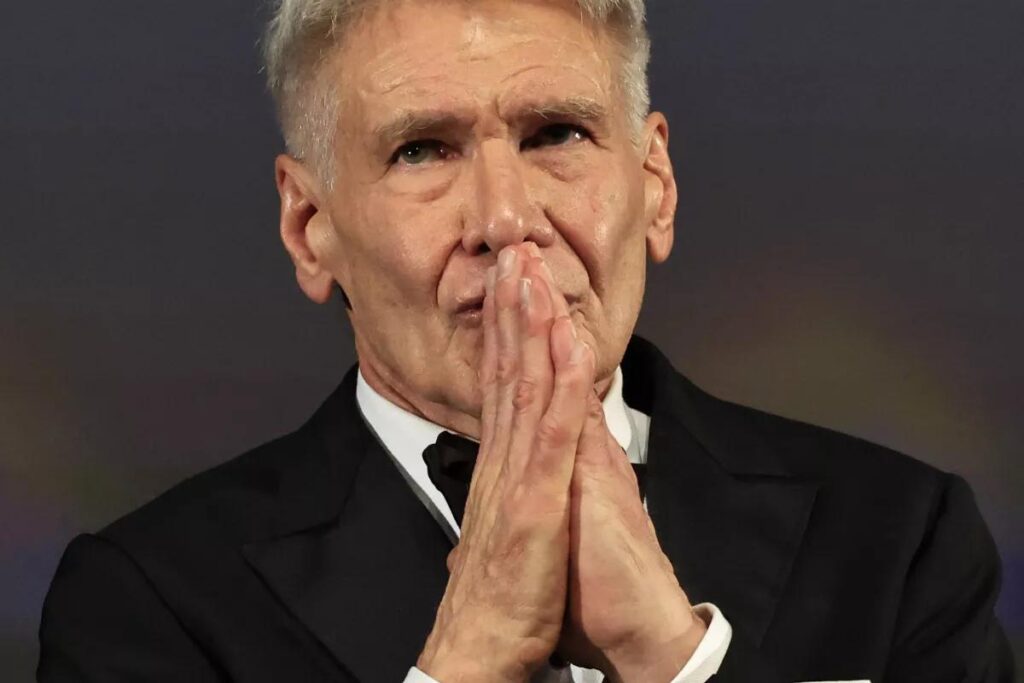 The epic blockbuster movie: Indiana Jones and the Dial of Destiny is out now with a big success at the box office!  This is a MUST SEE MOVIE! Harrison Ford returns as the legendary hero archaeologist in the highly anticipated fifth installment of the iconic "Indiana Jones" franchise, which is directed by James Mangold ("Ford v Ferrari," "Logan").
It was amazing to see the de-aged Harrison Ford – who with great special effects made him look so much younger- just like he was in 1981 for the first movie of this series:  "Raiders of the Lost Ark" :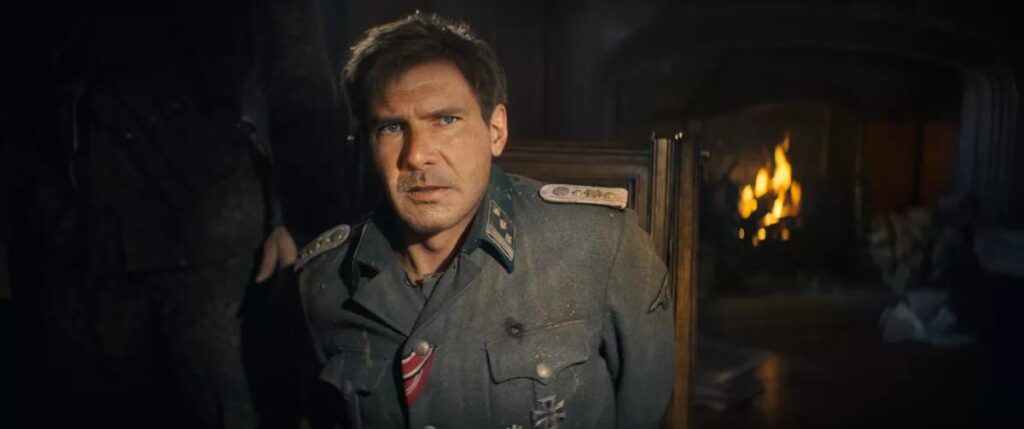 In the opening scenes, a magically made-young Ford, as Indy, takes us back to World War II. The titular dial, a potentially time-traveling device created by Archimedes, is acquired, lost and acquired again. Much of the action takes place on a train — always a good sign! — and it's shot in a way to openly evoke nostalgia. Even Mads Mikkelsen as the Nazi scientist Jürgen Voller looks a bit youth-enhanced. Indy is, if not precisely his old self, a very reasonable facsimile, punching out Nazis and pausing only to verify ancient artifacts. The prolonged "flashback" makes the transition to 1969 both reassuring and jarring. We meet up with our hero as full-bore cranky old geezer. It's hilarious but also depressing; director James Mangold and a team of screenwriters lean into the realities of time on myriad levels, and though we see Indy come back to life in certain ways, the film does not shy away from the fact that life is not something you come back from so much as move through. It's daring for a 42-year-old franchise to play with the notion that one can never really go back in time, even as it does so narratively and literally. Though all the Indiana Jones touchstones are there — antiquities, chases through winding streets in improbable vehicles, rickety bridges, even the dreaded snakes (after a fashion), there's a weight to this film that was absent from the others, which felt quite earned to me.  I found that World War II flashback prologue by turns fascinating, transporting and a little creepy. Ford has noted in interviews that the digital de-aging process involved artificial intelligence, which was used to pull images of his younger face from across the entire Lucasfilm archive, including from unused footage, which is why the overall effect is so seamless. Perhaps AI — a subject of much discussion in Hollywood these days — can be the villain next time around: "Indiana Jones and the Horrors of ChatGPT." Then again, given how annoyed fans were by "Crystal Skull's" most unwelcome pivot into science fiction, maybe better not.
The iconic hero/daredevil archaeologist Indiana Jones races against time to retrieve a legendary dial that can change the course of history. Accompanied by his goddaughter, he soon finds himself squaring off against Jürgen Voller, a former Nazi who works for NASA.
Starring along with Ford are Phoebe Waller-Bridge ("Fleabag"), Antonio Banderas ("Pain and Glory"), John Rhys-Davies ("Raiders of the Lost Ark"), Shaunette Renee Wilson ("Black Panther"), Thomas Kretschmann ("Das Boot"), Toby Jones ("Jurassic World: Fallen Kingdom"), Boyd Holbrook ("Logan"), Oliver Richters ("Black Widow"), Ethann Isidore ("Mortel") and Mads Mikkelsen ("Fantastic Beasts: The Secrets of Dumbledore").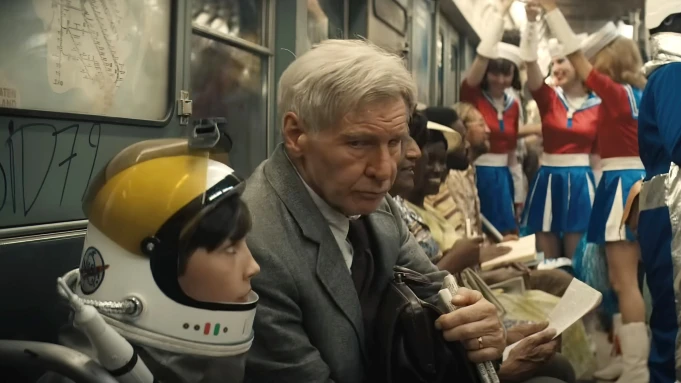 Mads Mikkelsen plays a Nazi called Jürgen Voller in Indiana Jones 5. He's the villain of the film and after the same historical artefact as Indy in the movie – the titular Dial of Destiny. Marion Ravenwood appears in a single scene, at the very end of Indiana Jones 5, and Karen Allen tells The Associated Press: "I was a bit disappointed that she wasn't more woven throughout the story and didn't have more of an ongoing trajectory." The sequence does pack an emotional punch! Indiana Jones and the Dial of Destiny has delivered many callbacks and Easter eggs to previous Indy adventures, and one of those is an appearance by Indy's original love interest Marion Ravenwood, played by Karen Allen.
Is Indiana Jones son in the 5th movie? 
While Mutt isn't physically in the movie, Dial of Destiny reveals what ultimately became of the character. It is explained that Mutt was killed in the Vietnam War, and the incident took its toll on his parents' marriage, leading to Indy and Marion separating.
Spoiler alert: There is my favorite Science Fiction topic: Time Travel at the end of Indiana Jones and the Dial of Destiny, where the film's titular hero finds himself briefly stranded with his goddaughter, Helena (Phoebe Waller-Bridge), in 212 B.C. While there, Indy tells Helena to fly back to the present with her sidekick, Teddy (Ethann Isidore), and leave him in the past.
Directed by James Mangold, the film is produced by Kathleen Kennedy, Frank Marshall and Simon Emanuel, with Steven Spielberg and George Lucas serving as executive producers. John Williams, who has scored each Indy adventure since the original "Raiders of the Lost Ark" in 1981, is once again composing the score. Below is Harrison Ford on the left, and Entertainment Today TV Producer: Steve Taylor together posing for a photo at an after-party at the Renaissance Hotel: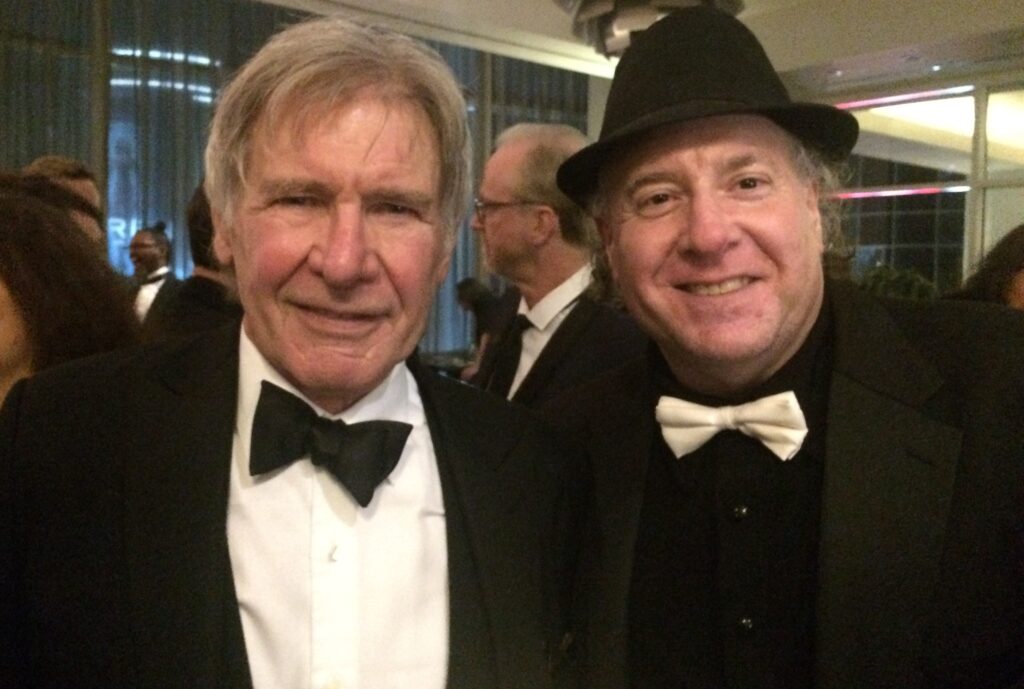 Will there be an Indiana Jones 6? The short answer is no. While an Indiana Jones streaming series has been rumored for a while, Harrison Ford confirmed in April 2023 that this will be his last performance as Jones, and the last movie in the series.