Live from Regal LA Live  :
Kathy Griffin interview by Aubrey Plaza @DTLA Film Festival
Kathy talks about the viral photo that she did with an image that looks like she is holding President Trump's head that is cut off with blood on it. This film goes in details how that photo changed her live as she tells interesting stories how people on both sides treated her. After the movie was the interview done by Aubrey Plaza, who presented Kathy with the prestigious DTLA Film Festival Award, followed by a Q & A with the audience.
On May 30, 2017 an image of Griffin holding a mask that resembled the severed head of President Trump was released – the image went global and Viral and everything she had worked for in her life, vanished overnight. A film chronicling the unprecedented and historic story of an iconic American comedian overcoming a political and media takedown, "Kathy Griffin: A Hell of a Story" was an official selection at the 2019 SXSW Film Festival where it took the Texas capital by storm, garnering critical reviews and becoming an audience favorite.
For her documentary "Kathy Griffin: A Hell of a Story" Griffin was honored with the festival's Independent Film Pioneer Award for her body of work in independent cinema and television. Past recipients include Laura Dern, John Hawkes, William H. Macy, Virginia Madsen, John C. Reilly, Julie Delpy and Mark Ruffalo.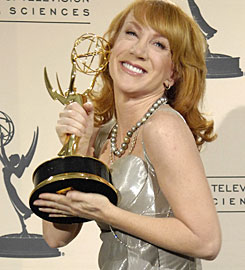 Two-time Emmy and Grammy award-winning comedian Griffin is a towering figure on television, on tour, in publishing and now on film, recognized universally for her brand of pull-no-punches comedy. In 2013, Kathy was inducted into the Guinness Book of World Records for writing and starring in an unprecedented 23 televised stand-up specials — more than any comedian in history! From penning New York Times best-selling books to filling the biggest concert halls around the world on her comedy tours, she has cemented herself as one of the most original figures in comedy with her unfiltered, unafraid take on Hollywood and its foibles.
A Hell of a Story is a concert film by comedian Kathy Griffin, and her twenty-first special overall. Griffin self-financed the film, which was recorded on October 29, 2018 at the Santa Monica College Performing Arts Center. The special was turned down by every television network and streaming service Griffin pitched to. It premiered on March 11, 2019 at South by Southwest. It was given a single-day theatrical release by Fathom Events on July 31, 2019 and released on video on demand on August 13.
DTLA Film Festival is currently the largest film and television event in burgeoning downtown Los Angeles, the historic core and new creative nexus of the city. For more details go to the festival website: www.dtlaff.com. Several feature films in the fest lineup included recent debuts at the Tribeca Film Festival, SXSW Film Festival and Sundance Film Festival.
"In the rapidly evolving landscape of film distribution, we know there always will be a place for film festivals where people can gather for a communal, cinematic experience. For over a decade, we've provided a platform to watch some of the best in independent films — with a focus on diversity — in the historic center of the Film Capital of the World," said Greg Ptacek, festival director and co-founder.