The stars came out for the Los Angeles RED CARPET PREMIERE at the Microsoft Theatre at LA LIVE for CIRQUE DU SOLEIL's OVO. This is the newest version of CIRQUE DU SOLEIL that has interesting acts, great dancing, and amazing acrobatics, that thrilled the whole audience at this sold-out premiere! The movement of life permeates the entire show with creatures flying, leaping, bounding, and crawling!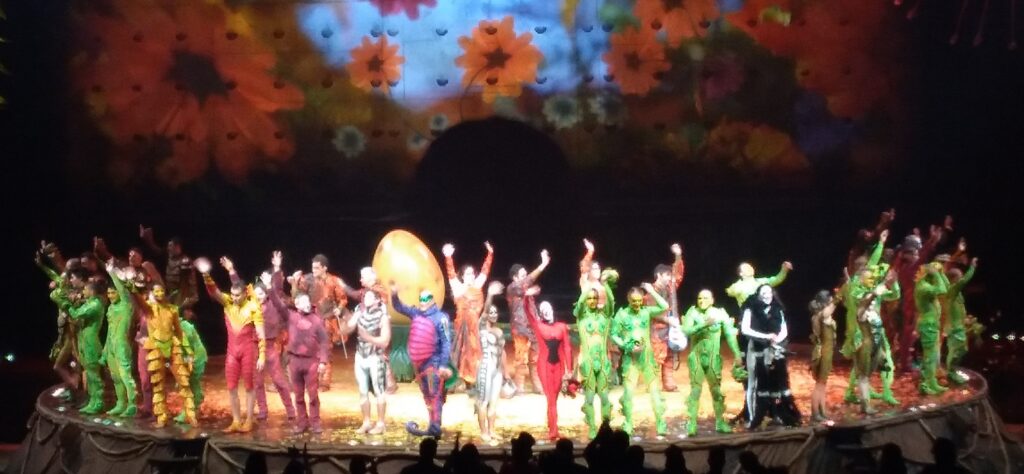 On this news show our TV Producer: Steve Taylor (Left in photo), and News Reporter: Tressa Smiley (Center of photo) will take you down on the "Red" Green Carpet, to interview some of the cast, and celebrities. Our Cameraman at this premiere was Richard Marcella (Right of photo): 
Ovo is a touring circus production by Cirque du Soleil that premiered in Montréal, Canada, in 2009. Ovo's creator and director, Deborah Colker, took inspiration from the world of insects. The idea for Ovo was not to be about the acts, nor dancing, nor insects, but about movement. Composer Berna Ceppas brought additional life to Ovo with a score inspired by the music of Brazil. Ovo means "egg" in Portuguese and represents the underlying thread through the show. Graphically, inside the logo of Ovo, is an insect. The two O's represent the eyes and the V forms the nose and antennas.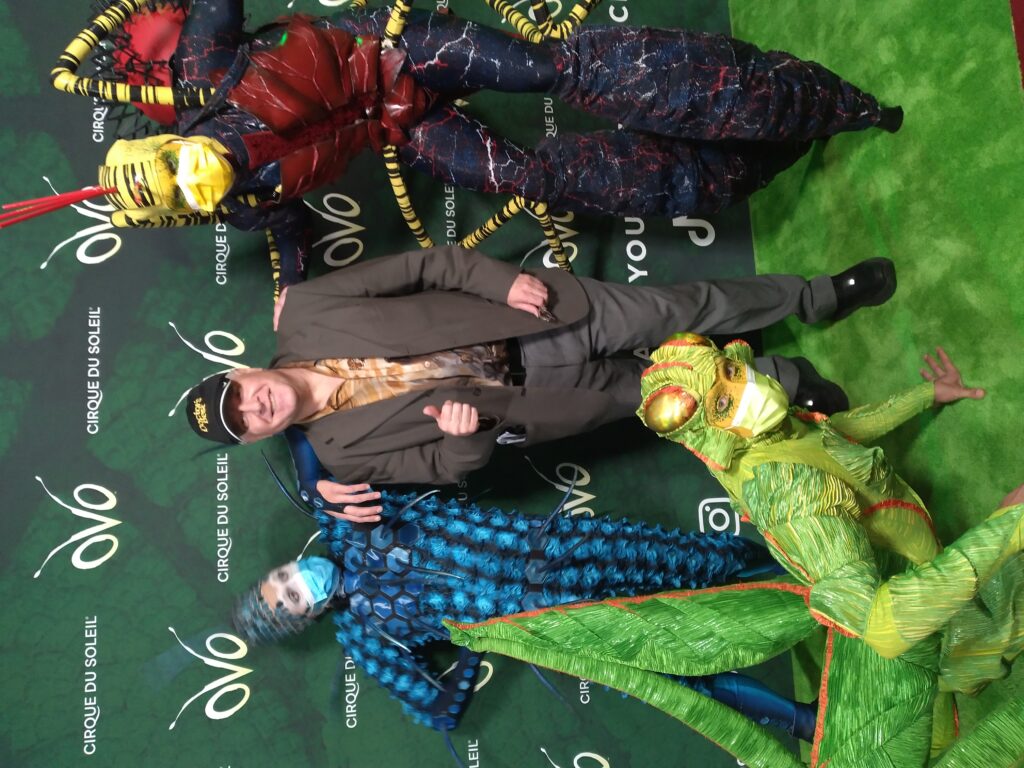 OVO is a headlong rush into a colorful ecosystem teeming with life, where insects work, eat, crawl, flutter, play, fight and look for love in a non-stop riot of energy and movement. The insects' home is a world of biodiversity and beauty filled with noisy action and moments of quiet emotion.
Steve & Tressa on the Green Carpet, after the interviews posing with Legendary Actor: Joe Mantegna, and Supermodel: Beverly Johnson: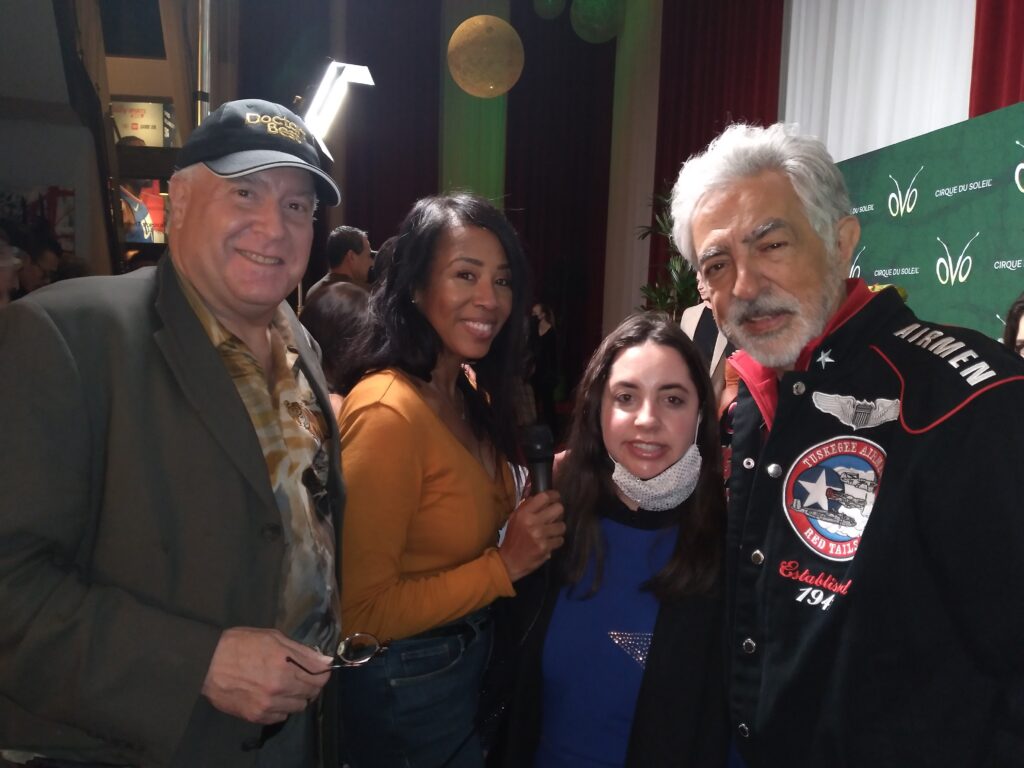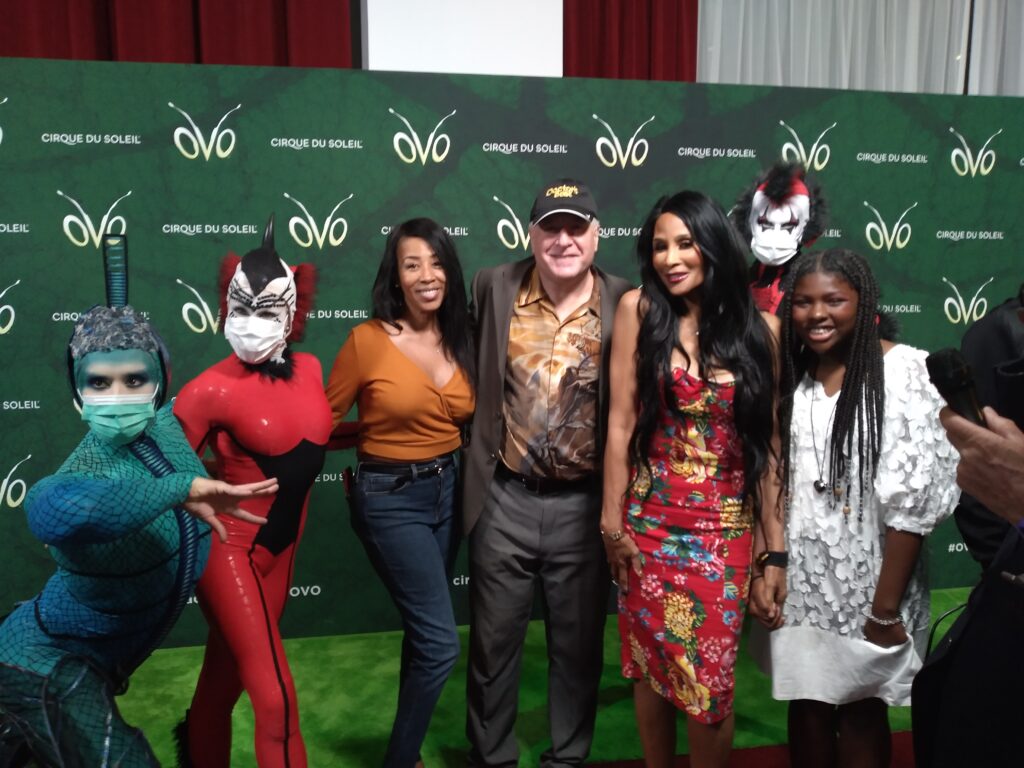 A very special thanks to our reporter Tressa Smiley for doing the interviews on the "red carpet" – that was actually green tonight, for our TV show. There will be more news segments from Tressa for our shows: Entertainment Today and Entertainment & Sports Today, and you can also see Tressa on "VIP Live with Tressa Smiley" , which is a positive talk show platform that connect people, purpose, passion and content fueled by empowerment and praise for all seeking life advancement using the power of positivity. So join this empowerment movement – Make America SMILE, Visit www.tressasmiley.com  using the power of positivity.
Tickets now on sale through May 1st. For more information go to: CirqueduSoleil.com/ovo
The day after news story:
Cirque du Soleil OVO Debuts at the Microsoft Theater with a Star-Studded Green Carpet Premiere.
The star-studded green carpet premiere of Cirque du Soleil's OVO brought some of Hollywood's favorite names out amid award season! 
 Cirque du Soleil made an outstanding return to Los Angeles last night at the Microsoft Theater with its high-energy, jaw-dropping spectacular production, OVO – a dynamic, immersive ecosystem inhabited by an acrobatic colony of insects! OVO runs from March 16th, 2022 through May 1st, 2022.
Many celebrities and A-list talent attended, including Tinashe, Laganja Estranja, Jesse Carmichael, Tommy Davidson, Ava Michelle, Angela Lewis, Larsa Pippen, and Rumer Willis, who witnessed a non-stop flurry of color, energy, and movement where insects worked, crawled, flung, played, and looked for love. Several celebrities, including Tamar Taylor and Cree Summer arrived dressed in full jungle-themed costumes for the OVO launch. Some celebrities wore jungle-inspired attire on the enticing green carpet.
Some of today's top social media influencers were able to create interactive and entertaining content thanks to OVO's exceptional showmanship and exceptional acrobatics, including David Dobrik, Natalie Mariduena, Spencer Wuah, Emma Norton, Sam Dameshek, and Ava Michelle among others.
"It's with great pleasure that we begin our tradition of bringing Cirque du Soleil to the heart of Downtown L.A. with OVO," said Mike Newquist,  President – Touring Shows Division at Cirque du Soleil Entertainment Group. "Being able to perform on Microsoft Theater's iconic stage is an honor, and we look forward to offering something new and original to our Los Angeles fans for the next five years. "
Comprised of 100 people coming from over 25 countries, the cast and crew of OVO has been working tirelessly to bring to this impressive show that combines live music, immersive video projections and acrobatics that defy gravity and redefine the limits of the human body. Since its opening in Montreal, Canada, in 2009, OVO has tickled the imagination of more than 7 million people across 160 cities in 26 different countries.
You can purchase tickets and learn more about OVO at cirquedusoleil.com/ovo.
For free and easy subscription to the Club Cirque, visit cirqueclub.com. Follow #OVOCirque and #cirquedusoleil on social media: Facebook | Twitter | Instagram | YouTube
Cirque du Soleil has redefined how the world views the circus; from small town talent to a household name. Based in Montreal (Qc), the Canadian organization went on to become a global leader in live entertainment with the creation of world-class immersive and iconic experiences, across 6 continents. Cirque du Soleil connects with audiences by being genuine, human and inclusive. Privileged to work with artists from 90 countries to bring their creativity to life on stages around the world, the company aims to make a positive impact on people, communities and the planet with its most important tools: creativity and art. Over the years, more than 215 million people have been inspired, in over 70 different countries. For more information, visit cirquedusoleil.com.