Live from the Ultimate Skybox in San Diego overlooking centerfield of the San Diego Padre's Baseball Stadium- Petco Park -from left to right:
The Mayor- Kevin Faulconer (the current 36th mayor of San Diego, California), TV Producer Steve Taylor, and in the middle the Birthday boy at 90 years old- Dion Rich: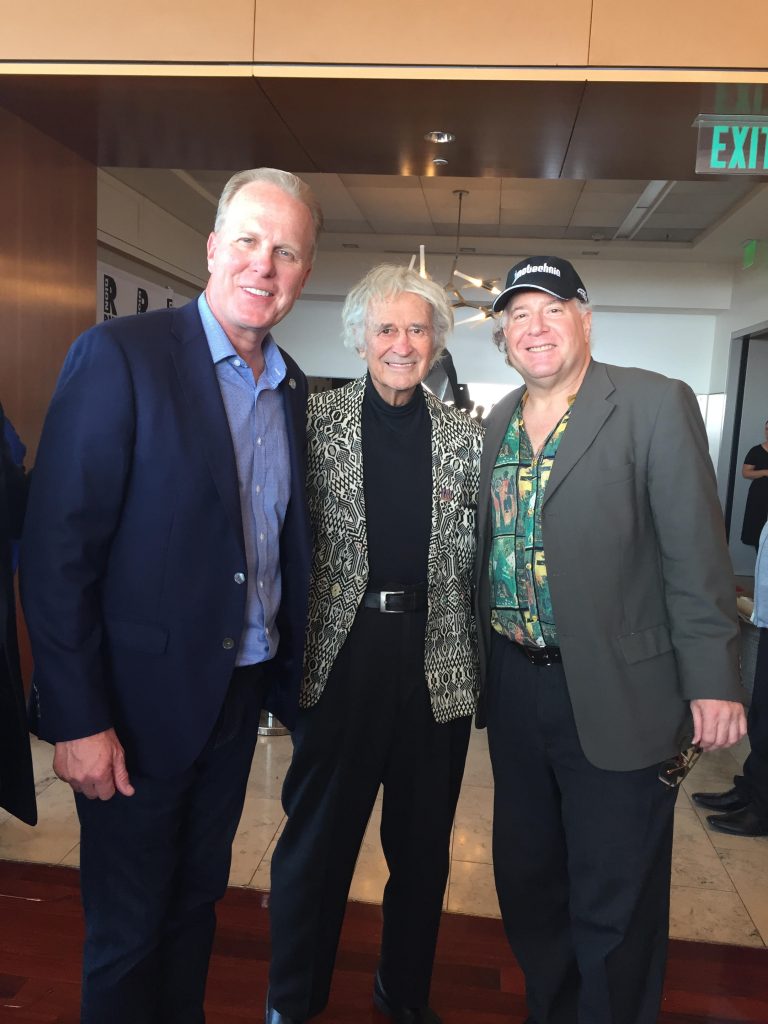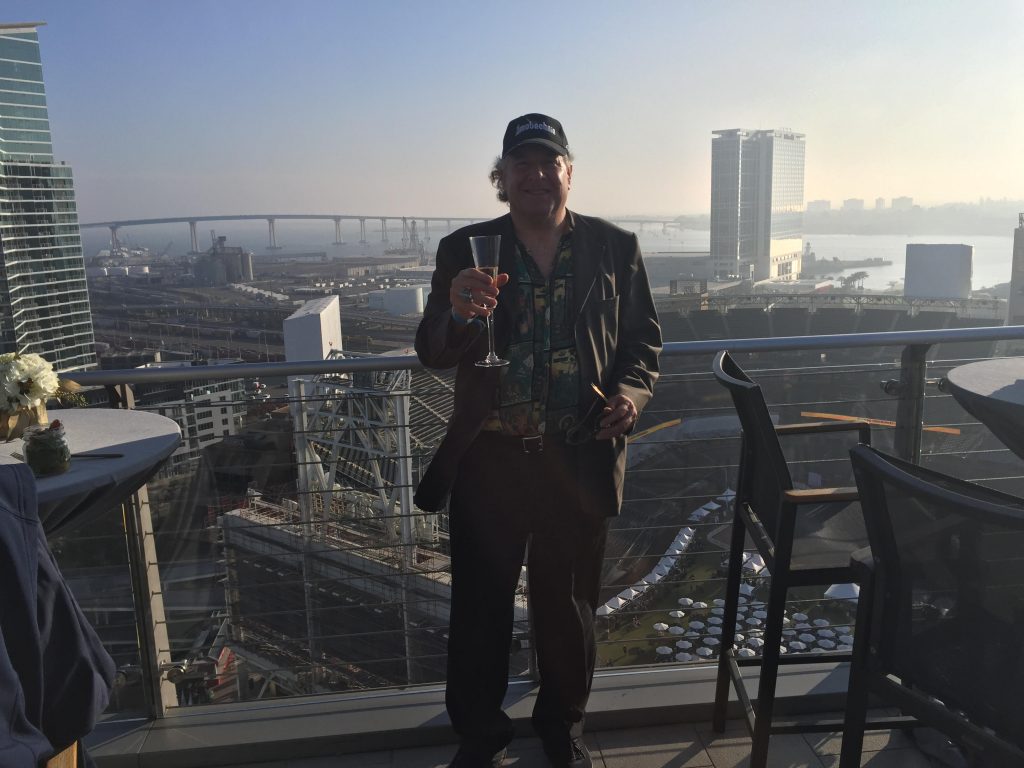 The view from the balcony of this VIP Skybox can not be beat ! You get a breathtaking almost 360 degree view of all of San Diego- which is the 8th largest city in the USA, The Pacific Ocean, San Diego Bay, The San Diego–Coronado Bridge –crossing over San Diego Bay- linking San Diego with Coronado, California. You can see the Island of Coronado that is the home to the famous Hotel del Coronado, where the classic movie "Some Like it Hot" was filmed, that starred Marilyn Monroe, Tony Curtis and Jack Lemmon. Our TV show has filmed at this iconic hotel before.
Dion spent $40,000 on this party and it was the same- if not better than any other Showbiz type of Hollywood Party- with a red carpet for the arrival of the guests, master chefs serving gourmet food and drinks, and an amazing million dollar view overlooking all of San Diego, The Bay, Island of Coronado, The Baseball Stadium, and a great 4 person band for the entire afternoon.
This is our second 90 Birthday Party in the same month! Just 14 days ago we covered Ed Asner's 90th Birthday Party at The Hollywood Roosevelt Hotel !
There were about 150 guests there, including the Mayor (photo above) and San Diego Police Chief Shelley Zimmerman, – who both gave speeches to honor Dion, and even the one and only San Diego Chicken- Ted Giannoulas: who has been inside that same chicken suit for 45 years, and who we had interviewed about 25 years ago when we covered The Padres and Chargers down in San Diego. The San Diego Chicken is arguably the most famous mascot in sports, since the character's inception in 1974 as a mascot for rock station KGB: see below photo of us with the San Diego Chicken when he arrived to the Birthday party on the VIP red carpet: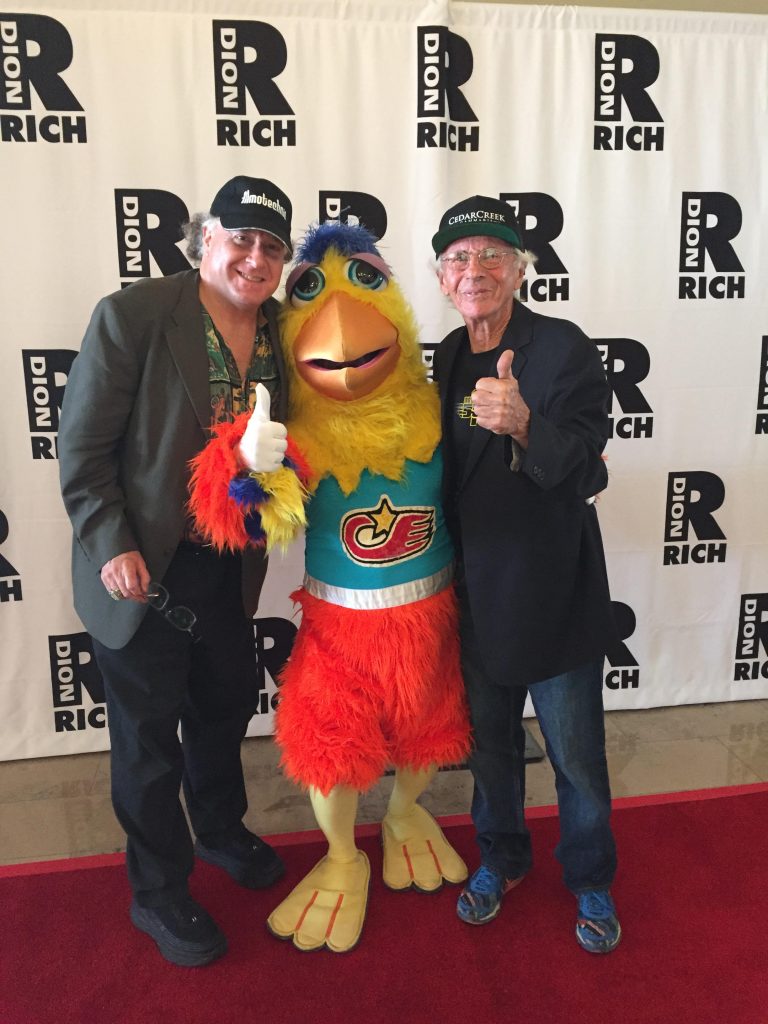 Dion has been to every Super Bowl since the first one was played on January 15, 1967 at the Los Angeles Memorial Coliseum in Los Angeles, California ! We have been honored to have Dion work for us as a reporter for over 25 years, as he has covered for our TV shows: The Super Bowl, World Series, Kentucky Derby, NBA and Baseball All Star Games, The Oscars, The Emmys, The Grammy Awards, The Olympic Games all over the world, and so many other big time events!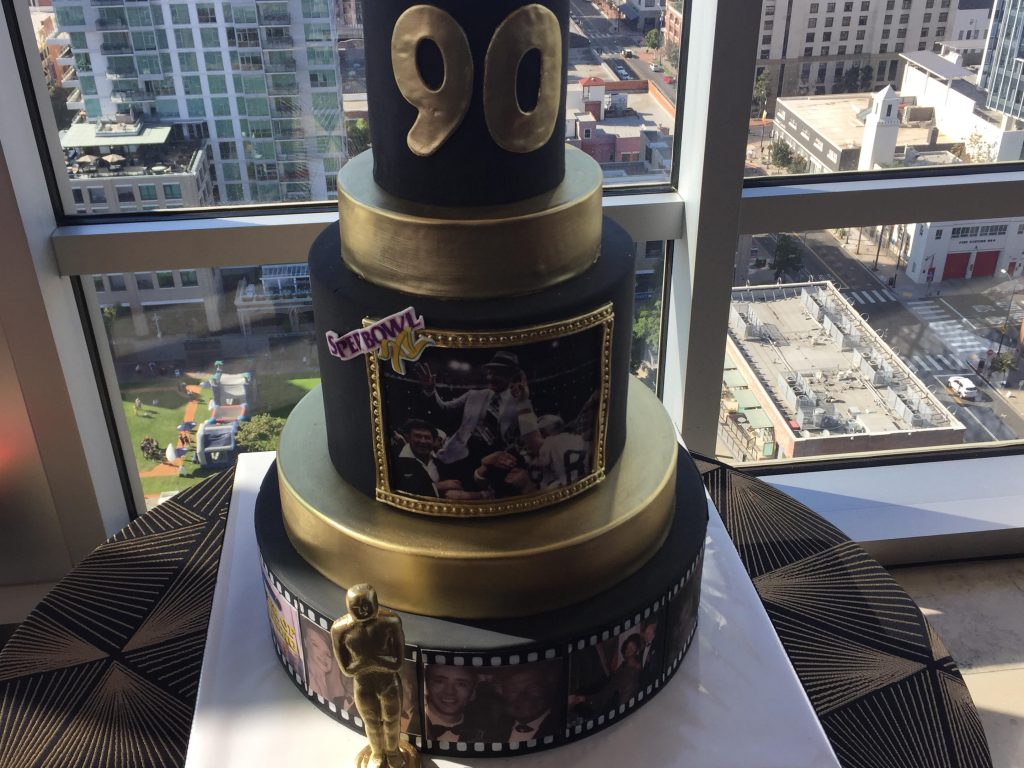 Speaking of the Super Bowl – Dion's Giant size 90th Birthday cake had photos of many celebrities, including the below classic photo of Super Bowl XII in 1978 of San Diegan Dion Rich holding Dallas Cowboys' Coach Tom Landry's right leg as Dallas celebrated its Super Bowl victory over the Denver Broncos: